HTML Editor: Tables
The button "Table" in the toolbar of the HTML editor inserts a table into the text. 
The following form will open on click: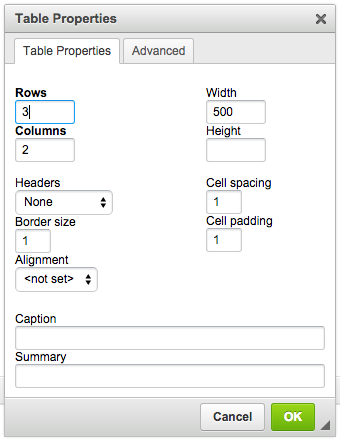 The following settings are available here:
Rows and Columns: The number of rows and columns can be entered here.
Width: It is possible to set the width of the table in pixels here. If this field is left blank the table will change dynamically with its content. 
Height: The height of the table can be determined by entering the desired value in pixels. Normally this field is left blank, so the table can adjust its height according to the content.
Note: An entry here may cause problems displaying the content of a table due to a lack of space!
Headers: This setting controls if a header is displayed.  
Border: Controls the strength of the lines in the grid. An entered zero will suppress the display of any borders.
Cell spacing: Sets the distance between the cells. A zero entered here will change the thin double line of the table grid to one massive line if a border is displayed. 
Cell padding: Controls the distance of the content to the cell borders. 
Alignment: Sets the alignment of the table in the text. "<not set>" means that the alignment settings of the text will be used. Every other setting will overwrite the alignment settings of the text for the table. 
Caption: Adds a caption for the table. 
Summary: The entered text will be inserted in the source code, but has no effect on the text and will not be displayed.
Tipp:
What kind of settings do I find in the tab "Advanced"?
It is possible to customize the appearance of a table further. But please be aware that changes here will not be supported by SABIO and should only be used by experts in CSS.