Using the List of Content
Every Serviceware Knowledge (SABIO) Tab displays a list of content, with the exception of the Tree Tab.
Here the content of the selected source is shown and is filtered by entering search terms in the box on top of the list or by selecting filters. 

After entering a search term, the search results will  appear below the search box in the results list.
One click on the respective entry will show the content in the Detailed View.
Every content listed has a further action available through the context menu (right click):
"Open in a new tab" - displays the content in a new Serviceware Knowledge Tab
The page number and number of search result pages available, are found at the bottom of the list of content including navigation keys (first page, previous page, next page, last page) and a button to refresh the list.
With standard settings active the content is displayed as a compact list containing the following information:
An icon to the left of the content entry in the results list indicates the type of content. The following types of content are possible in Serviceware Knowledge :
The list of content can either be shown in its compact form (standard setting), or as a table by widening the panel containing the list.
If the cursor is moved over the line separating the list of content from the detailed view, it is possible to adjust the width of the panel by dragging the border left or right.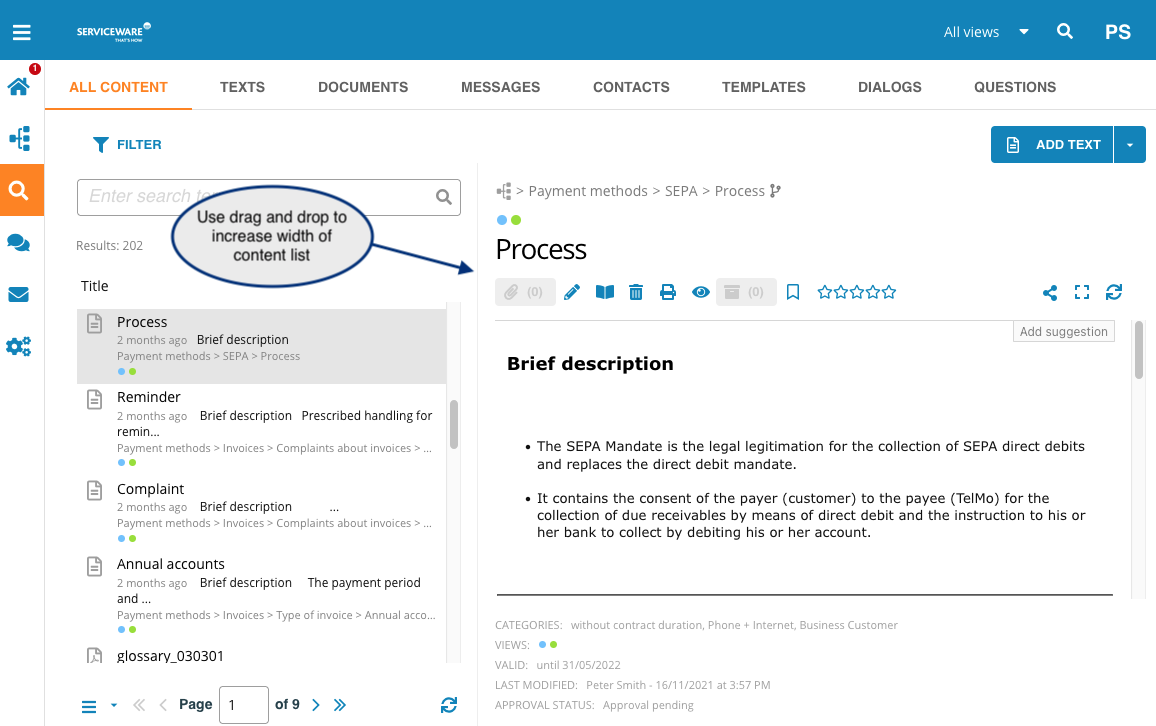 At a certain width the list will be shown as a table with column headers.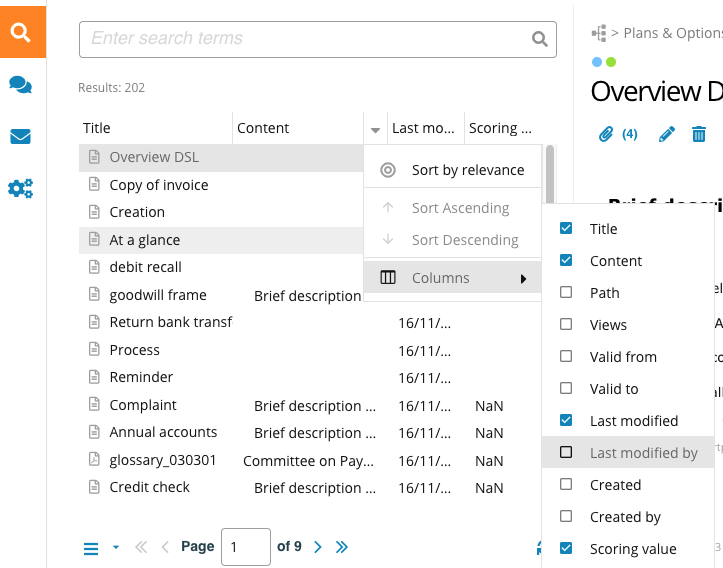 By clicking the column header the list is sorted ascending or descending according to the selected column.
The user is also able to hide or show different columns by clicking on the small arrow in any column header and (de)selecting the respective columns in the "Columns" menu.
Dragging the column boundary left or right can change the column width. Additionally column order may be switched by dragging the column header fields left or right.
Note: All site layout selections are saved individually for each user. The default settings can always be restored through the individual User Menu in "Settings > Global".