"Bookmarks" in the User Menu
All bookmarks set by the current user can be viewed and accessed by moving the cursor over this menu item in the user menu.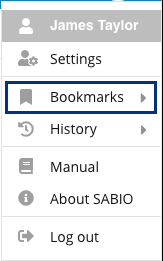 The "Bookmarks" menu item in the User Menu contains links to all stored favorites so that they can be accessed quickly. 
If you move the mouse over the "Bookmarks" menu item in the User Menu, a submenu opens in which the favorites stored by the user are displayed.
The bookmarks are also accessible in the Home Tab in the source "Bookmarks". 
When the limit of the permitted bookmarks is reached, an error message is displayed that no additional bookmarks are saved.
When stored bookmarks are no longer visible to the user, they are automatically removed from the list of bookmarks.
Bookmarks can no longer be visible to the user because they have been deleted, moved to other views, or are invalid.
The user is notified via e-mail that saved bookmarks are no longer visible to him and have therefore been removed from the list.
This e-mail has the following content.
Hello <first name> <surname>,
<number> content(s) that you have added as a bookmark have been removed from your bookmark list.
The content are either expired, have been moved to other views or have been deleted and thus are no longer visible to you.
Your SABIO Team
Note: This is an automatically generated email that you cannot reply to.