Add Suggestions
The button "Add suggestion" in the toolbar of the detailed view allows the user to either create a new suggestion or to add a comment to an existing suggestion. 
If no open suggestion exists, the button looks as follows:  

Clicking on the button opens the following form between the toolbar and the displayed content: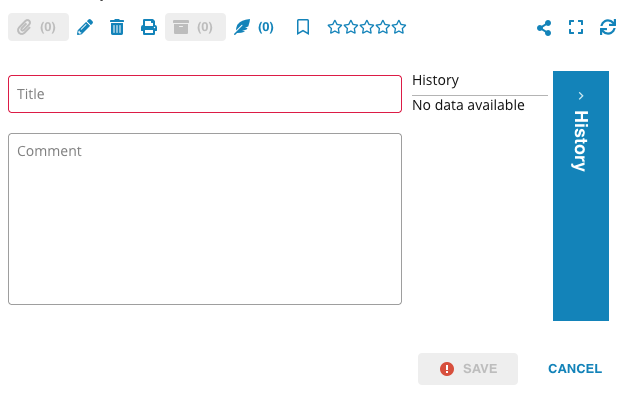 When creating a new suggestion, the user can give his suggestion a title.
The field for entering a new comment is located underneath the title field.
The user can hide the history (comments) area by clicking on the panel "History". This also enlarges the form horizontally.
The text for which the suggestion is being created is located below the form.
By clicking "Save" or "Cancel" the form is closed automatically. 
A suggestion saved by the user is accessible in the home tab source "suggestions".
If an open suggestion exists for the displayed content, the button looks as follows: 

In this example, an open suggestion with one comment exists for this content. Clicking the button opens the suggestions form as follows: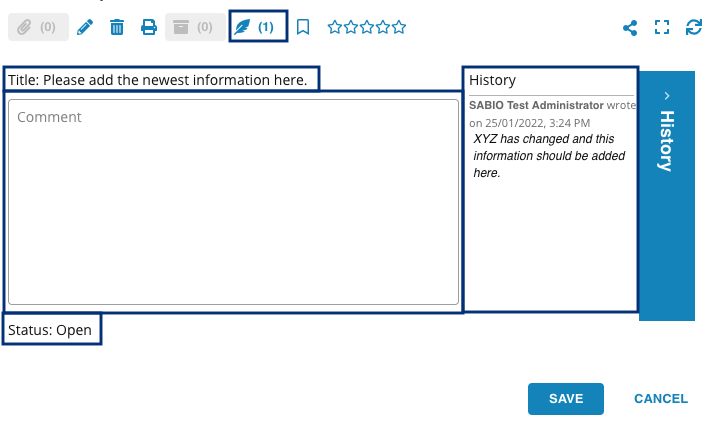 This example illustrates that it is not possible to change the title of the suggestion anymore.
The existing comments are shown in the area on the right-hand side of the form. 
Beneath the field for entering a new comment the status of the suggestion is displayed.
The suggestion status can either be "Open" or "In progress".
Suggestions closed by an editor are not displayed here.
Instead, a new suggestion will be created.