Use of the Tree Tab
In the Tree Tab all available knowledge in Serviceware Knowledge (SABIO) is shown in a clearly laid out tree structure.

The Tree Tab is accessible through a click on the following button on the left hand side:

When the user moves the cursor over a node the sub nodes open from left to right.
The user's path through the tree is marked by an coloured accentuation of the chosen nodes (orange in the given example).

If a node contains one or more sub nodes it is marked with a small arrow pointing to the right:

Moving over a node marked as shown, the sub nodes will open on the right hand-side.
If a node contains a text it is marked with a small text icon:

Clicking on a node containing a text will open a Detailed View of the content together with a list of all nodes on the same level: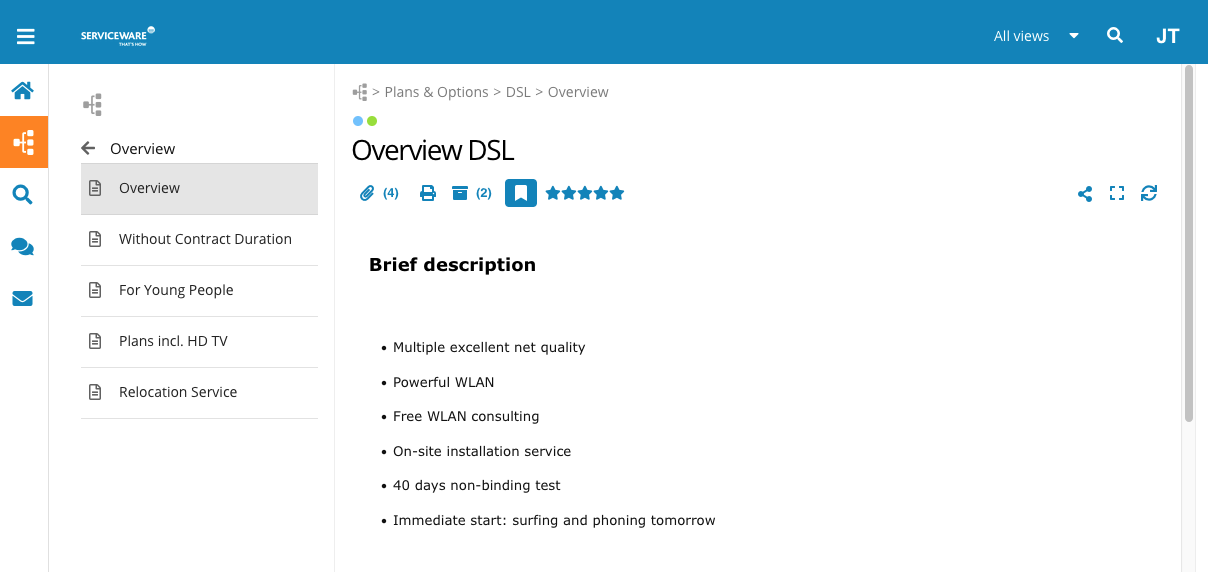 A Detailed View of the selected text is to be found o

n the right hand-side

.

The tree level is shown on the left, containing all nodes on the same level of the selected one. 
The tree icon on top of the tree level (coloured like the currently selected view if applicable) leads back to the tree navigation shown above.

Nodes containing a text can be displayed in the detailed view by clicking on them. C

licking on the arrow pointing to the left leads the user back one level and allows him to chose another node.
This navigation works only by clicking, in contrast to the dynamic navigation in the tree view, but the basic principle is the same.