View Selection
If the user has been assigned to more than one view, view selection is via the drop-down box in the top navigation, to the left of the global search field.
By selecting a view all following actions (e.g. the search, display of the tree) in Serviceware Knowledge will be filtered to content assigned to the specified view.
This allows the user to focus on a relevant area of knowledge.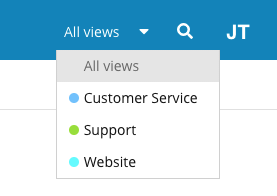 Note: If content is shown in the detailed view, a blue bar will appear on top, to warn the user that the content has been selected with a different view selection.